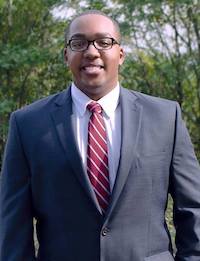 Adam Clinton Brown
Of Counsel
Adam Clinton Brown is a compassionate divorce attorney who is hardworking and has a range of experience in family law. He is dedicated to fighting on behalf of his clients to help them move forward with their lives after the pain of divorce. Adam graduated Rutgers Law School in 2014 and has been handling family law cases for a well-known divorce and family law firm where he has worked with clients in various situations.
Adam's compassionate, caring nature is revealed in his vast experience working for the underprivileged and under-represented. He was part of the Minority Student Program at Rutgers Law School and President of the United African American Society at Greensboro College where he also received honors as a Dean's Scholar. When he worked at Rutgers Law Associates, he was an attorney for low-moderate income clients, fighting to see they that they received the help they needed in matters of family law. He practiced in family, civil and municipal law. He helped to build relationships throughout the community through organizations such as the Newark Community Street Team.
Adam has worked all part of cases, from filing the initial complaint to trial and post-judgment. When he worked as a law clerk in the Superior Court of New Jersey, he conducted research on family law issues, including domestic violence and family neglect. With his years of experience in family law and his interest in developing community relations, Adam is an asset to The Law Offices of Peter Van Aulen and its clients. He is a member of the New Jersey State Bar and a member of the Essex County Bar Association. He listens to each client. Adam does the hard work of research and preparation to give the client the representation they expect and deserve.
Education
J.D., Rutgers Law School, 2014
President of the Rutgers Tax Law Society 2013 David Cohn Moot Court Competitor Minority Student Program
B.A., Greensboro College, 2011
Dean's Scholar President of the United African American Society Contributing writer to The Collegian
Jurisdictions Admitted to Practice New Jersey
U.S. District Court for the District of New Jersey

Professional & Bar Association Memberships
New Jersey State Bar
Family Section
Essex County Bar Association
Vanderbilt-Brennan Inn of Court
Civil Practice Section | Pupil
Experience
Tax and Legal Intern - 2014-2015
Law Clerk to Honorable James R. Paganelli, JSC - Superior Court of New Jersey, Family Part 2015-2016
Graduate Fellow and Associate Rutgers Law Associates 2017 – present
Associate at a well-known New Jersey Family and Divorce Law Firm 2018-2019
Campaign Field Organizer for State Senator Nia H. Gill