Contempt of Court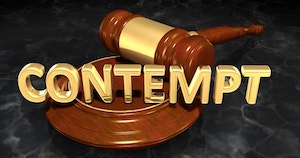 When a court issues orders, the judge expects the parties will comply with those directives. People cannot simply disregard a court's orders because they disagree with the judge or think the judge made a mistake. Typical orders in divorce cases involve distribution and use of property, payment of child or spousal support and parenting plans outlining residential placement of children. If one party willfully fails to follow such orders, that person can be held in contempt of court. The consequences of being found in contempt range from financial sanctions to performing community service and may even include incarceration in serious instances.
Contempt can be found at any time during a divorce proceeding or after the final papers are signed. For example, if one party is ordered to produce financial documents and fails to do so without a legitimate excuse, that person risks being found in contempt. If a person fails to pay child support as required by either a temporary order during the divorce or a final order after the divorce and cannot prove a real and substantial financial hardship, that person can be found in contempt.
Failure to follow parenting plans is a common source of contempt proceedings. Not allowing the other parent to have scheduled visitation time or failure to return a child after visitation form the basis of many contempt motions. If a parent had the ability to follow the parenting plan but simply chose not to, that parent may be found in contempt unless he can demonstrate a very compelling reason for disobeying the order. Simply believing the other parent is doing a poor job will be insufficient.
To be found in contempt it must be proved that (1) a person knew of a valid court order, (2) had the ability to follow the order but knowingly failed to do so and (3) lacked a legitimate excuse for violating the order. A party accusing another of contempt has the responsibility to prove these issues and should have clear and substantial evidence before making that accusation.
The procedure to establish contempt is straightforward. The person seeking the finding must file a motion in court with supporting documents stating how a court order was allegedly violated. The court will set a hearing date. The accused party must be properly served with the motion and notice of hearing. That person may respond in writing prior to the hearing. Expect a litany of excuses from the person being accused of contempt.
The issue then becomes whether the excuse is reasonable under the circumstances or whether the person made reasonable efforts to follow an order but still was unable to comply. For example, being laid off from a job may provide a reasonable excuse for failing to pay the full amount of child support, but quitting a job that paid enough to provide a full support payment may not be reasonable. At the hearing the judge will review documents, listen to further arguments from the parties and make a decision.
If a person is found in contempt, the judge will usually impose sanctions and state what must occur do to regain compliance with the order. The purpose of the contempt procedure is not to punish but to encourage a person to comply with the court's order. Sanctions are usually tailored to address the specific type of violation. If contempt resulted because a parent failed to return a child from scheduled visitation as required by a parenting plan, the remedy may be to award make-up time to the parent who was deprived of the child. If the violation related to payment of support, the court may add an amount to be paid monthly in addition to regular support payments until the back-support is paid.
Most states give judges broad discretion to impose a variety of sanctions designed to obtain obedience to court orders. These may include imposition of fines, requirement to perform community service, loss of a driver's license, attendance at counseling and, in rare instances, incarceration. Simply the threat of jail is often enough to obtain compliance with the order.
In addition to other sanctions, courts frequently require the person found in contempt to pay the legal fees incurred by the other party for having to bring the matter to court. Judges might also require repayment for daycare costs or lost wages incurred as a result of spending time in court seeking enforcement of an order. The philosophy is that an aggrieved person should not have to suffer a financial loss in addition to the consequences of the other person's failure to follow a court order.
Seeking to have someone found in contempt of court should be used sparingly and, in most cases, only after other methods of obtaining compliance have failed. Judges usually prefer to see efforts have been made to resolve issues before resorting to court action. Toward that end, a wise first step is to send a letter demanding compliance with an order and noting that a formal contempt motion may be filed if compliance is not forthcoming. If the order continues to be violated after reasonable efforts to resolve an issue, you should not hesitate to pursue a contempt finding.
At a minimum, consultation with an attorney is advised prior to launching a contempt action to determine if this is the best course of action. Contempt actions can backfire if brought over minor matters or if the allegedly violated court order is unclear. An improperly prosecuted contempt claim may result in the person who filed it having to pay legal fees.
In family law cases, court orders outline important rights and obligations regarding property, financial matters and parental relationships with children. When one party fails to follow an order, confusion and stress often result. Seeking to have a person found in contempt of court is a serious matter, but if the alleged violation is substantial you should not hesitate to pursue this remedy. If you have any questions concerning family or divorce law, call the Law Offices of Peter Van Aulen at 201-845-7400 for a free initial consultation.