Divorce Basics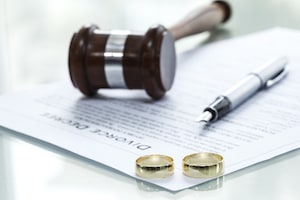 A divorce proceeding presents numerous challenges. These challenges include understanding court procedures, knowing what documents to file and considering available options to dissolve the marriage. Understanding the basics of obtaining a divorce in NJ is a good starting point.
Starting the Process
Either you or your spouse must have lived in New Jersey for 12 months to file for divorce in this state unless adultery is alleged as grounds for divorce. The person filing for divorce, the plaintiff, must file a Complaint for Divorce in court and pay a filing fee. The Complaint outlines basic information including names and addresses of the parties, date of marriage, grounds for the divorce and the specific relief being requested such as alimony, support, custody and division of property.
New Jersey provides for "no-fault" and "fault" divorces. A no-fault divorce simply means neither spouse is accusing the other of marital misconduct. A no-fault divorce is available if spouses have been living apart for at least 18 months or if the parties have been unable to make the marriage work due to irreconcilable differences for at least 6 months. A divorce based on irreconcilable differences does not require that spouses live apart.
A "fault" divorce can be alleged on numerous grounds including adultery, desertion, imprisonment, institutionalization and mental or physical cruelty. The person alleging fault must be prepared to prove the accusation.
Once the Complaint has been filed in court along with other initial documents related to insurance coverages, availability of dispute resolution and finances, the paperwork must be served on the other spouse. This can be accomplished by mailing documents to the spouse by certified or registered mail or by personal service of the documents by a sheriff's deputy, process server or anyone over the age of 18 who is not involved in the case.
The served spouse, designated as the defendant, must respond within 35 days by filing an Appearance or an Answer. In the Answer, the defendant may agree with some or all of the requests made in the Complaint. The defendant may also file a counterclaim alleging alternative grounds for the divorce.
The Discovery Process and Temporary Orders
Getting a divorce in NJ, as in all states, involves a discovery process. Once the divorce process has begun, either spouse can request information from the other. Methods include taking depositions under oath, submitting written questions to be answered under oath and requesting documents such as bank statements, tax returns and other financial paperwork. The court usually sets deadlines to complete these procedures.
Either party may also request court appointment of experts to review financial documents or appraise property and businesses. Parenting investigators can be requested to make custody recommendations. Mental health experts may be appointed if psychological issues are raised.
Either party can ask the court to enter temporary orders. These orders may award alimony or child support, establish custody and visitation provisions, restrict use of property or order payment of specific bills by each party. These orders only last until they are either changed by a judge or until final papers are filed terminating the marriage.
Contested vs. Uncontested
Ideally, spouses should work to resolve as many issues as possible prior to starting the legal process. Money will be saved and stress reduced if agreements can be achieved on property and debt allocation, custody, support and alimony. If spouses reach agreement on all issues, the divorce is deemed uncontested. Final papers can be prepared, and the spouses only need appear before a judge for a short hearing to present the documents.
If issues remain unresolved, the divorce is considered contested. The parties can seek professional mediation to attempt reaching a settlement. If mediation and continued negotiations fail, a judge will decide the issues following a formal trial at which witnesses may present testimony and evidence. Leaving issues for a judge to resolve risks obtaining results that satisfy neither spouse
Property, Debts and Alimony
New Jersey property law is based on equitable distribution. Each spouse will usually be awarded his or her separate property and debt. This includes property acquired prior to marriage, gifts, and inheritances. Marital property and debt will be divided between the spouses to achieve a fair, but not necessarily equal, distribution after considering a number of factors. These factors include the length of marriage as well as the age, health, financial situation and earning ability of each spouse.
A judge may order the parties to sell specific property and split the proceeds. More often, a judge will award a specific asset to one party and an equally valuable item of property to the other spouse.
Spousal support, or alimony, is related to property distribution. In theory, an award of alimony to one spouse is intended to allow that person to maintain a lifestyle similar to that enjoyed while married. Factors similar to those considered for property distribution are used. Alimony is often awarded for a specific period of time, particularly in shorter marriages or when one spouse requires a reasonable amount of time to obtain education or skills to become self-supporting.
Child Custody and Support
A court's custody determination is to be based on what is in a child's best interest. Courts favor shared parenting and the active involvement of both parents in a child's life unless there is a specific reason, such as abuse or neglect, warranting limited contact with a parent. Courts prefer to keep siblings together. An agreement between spouses regarding custody and visitation will usually be approved by a court.
The amount of child support to be paid by one parent to the other is primarily based on parental incomes. Courts also consider a number of other factors including the age of the child, amount of time the child resides with each parent and any special education or medical expenses.
Obtaining a divorce in NJ can be complex even if issues in dispute are few. Representation by an experienced attorney is essential to protect your rights, particularly if issues are contested. Even if you plan to navigate the process on your own, initial consultation with legal counsel is wise. Peter Van Aulen has over twenty-five years of divorce and family law experience. If you have questions about divorce in New Jersey, call him at (201) 845-7400 for a consultation.