Failure to Pay Child Support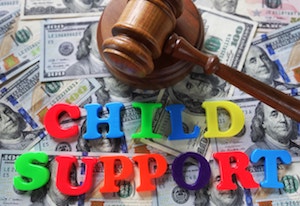 Setting the amount of child support to be paid, usually by the non-custodial parent, is often one of the more contentious aspects of a divorce. Most final orders in a divorce involving children will include a child support order. Failure to pay and child support enforcement can result in a variety of consequences ranging from wage garnishment to jail time.
Persons failing to make court ordered child support payments are unflatteringly referred to as deadbeat parents. Some state governments establish publicly accessible websites which include the names and pictures of deadbeat parents hoping that shame may be enough to encourage payment. When humiliation is insufficient, legal action becomes a necessity.
Legal proceedings may be initiated by the parent owed the money or by a state Division of Child Support on behalf of the parent. Failure to pay support can result in a finding of contempt of court which provides a judge with an assortment of child support enforcement remedies to achieve payment. Penalties to be imposed may be civil or criminal.
For example, a court may enter a judgment for the amount of unpaid support and set interest to accumulate on the unpaid amount at an annual rate of as much as 12% in some states. Once a judgment has been entered, wages and other income of the parent owing support may be garnished. This includes unemployment and worker's compensation benefits.
The court may order the non-compliant parent to pay the monthly amount of support established in the original order plus an extra amount to be paid toward the arrearage. A parent found in contempt may also be fined and ordered to pay the legal costs incurred by other parent for the necessity of seeking court intervention. For someone who had trouble paying the regular support amount, these added financial burdens often make matters even more difficult.
The federal government can withhold income tax refunds to pay back support. When the amount owed exceeds $2,500, the government may deny or revoke a passport. Failure to pay support can result in discharge from military service. Federal law also imposes criminal penalties on persons owing at least $5,000 in support and who move to another state in order to avoid payment.
Most states have laws that suspend or revoke various licenses for non-payment of support. These include driver, hunting, fishing and boating licenses. Some states also suspend professional licenses required for employment in specific industries. While driving, boating and hunting are not directly related to child support, states have found suspension of such privileges to be an effective way to gain compliance with support orders.
Non-payment of support may result in a variety of other child support enforcement consequences. Liens for the amount of unpaid support may be placed on real and personal property until the support is paid. State tax refunds can be withheld. Pensions unprotected by federal law can be attached. Property held in safe deposit boxes can be seized. Child support debts may be reported to credit agencies and negatively impact the ability to obtain a job, car, apartment or bank loan.
The most serious penalty is imposition of jail time. Incarceration is usually reserved for the most egregious cases in which other penalties have failed to obtain compliance. Tossing a deadbeat parent in jail is rare since a person sitting behind bars can't work to earn money to pay past due or current support. However, courts occasionally feel this extreme penalty serves as an effective deterrent.
Actions You Can Take If You Owe Support and Cannot Pay
The worst thing you can do if you owe child support is to ignore the court order. The debt only continues to increase, and all the potential penalties previously mentioned come into play. If you cannot pay the full monthly amount, then pay as much as you can. At least this shows you are making an effort and may encourage a court to show some lenience if legal action is initiated.
If your financial circumstances change as a result of health issues, a job layoff or other economic hardship, there are options that may result in reduction of your support obligation. Discuss the situation with your former spouse. If you are on good terms and are paying support directly, he or she may be willing to accept less until your situation improves. This does not eliminate the debt for unpaid support, but it may delay or avoid costly formal legal action. Find other ways to contribute support during this period by providing clothing, food, childcare or other services which involve your time rather than money.
Ultimately, a permanent change in the amount of support ordered will require court action. You can file a petition in court to modify the support amount. You will be required to provide a detailed explanation of the circumstances you believe justify reducing support and relevant documentation supporting the request. For example, if you were laid off from work, you should provide a layoff notice, pay stubs from a new employer and other documents showing current income. Courts may be sympathetic if you were laid off from work but not if you voluntarily quit a job.
Other reasons for modification might include medical hardship, an obligation to provide support for another child or the other parent receiving a significant increase in income. Whatever the reason, don't delay if court action appears to be a necessity. Courts do not generally reduce support retroactively. If a court lowers the support payment, the lower amount will only apply to payments due after the new order is entered.
One action you cannot take to reduce your support obligation is filing bankruptcy. Federal law prohibits child support debt from being discharged. However, bankruptcy may still be beneficial by reducing other debt which impacts your ability to make support payments.
The parental responsibility to financially support a child typically lasts until the child is emancipated. Persons experiencing difficulty meeting their support obligation should consult a lawyer toward the goals of both fulfilling their financial responsibility and avoiding the serious consequences which may result from failure to pay. If you have any questions about child support enforcement or modification in New Jersey, call the Law Offices of Peter Van Aulen at 201-845-7400 for a free initial consultation.