Finding the Successes from a Failed Marriage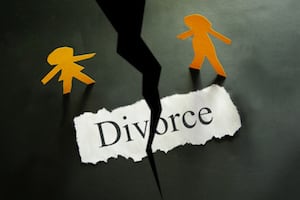 Divorce is never easy. Even when most issues are uncontested, a spouse may feel sadness or anger at the loss of a relationship that once seemed wonderful. There is a natural tendency to focus on all the things that went wrong and to assign blame. People commonly refer to divorce as a failed marriage. Spouses may feel guilt that they failed in some way. Finding the successes of a failed marriage can appear difficult at first, but they exist in almost all circumstances. Focusing on the things that went right will help you to move on with your life.
Your relationship as a spouse may be ending, but your relationship as a parent to your children will remain forever. Never forget the joy you had at the birth of each child. You learned how to care for, teach and nurture your children from day one. You helped them learn to walk, molded their personality, taught them responsibility, took pride in their accomplishments and creativity and, in many ways, set an example for them to follow. Hopefully, despite the divorce, your relationship with your children remains strong and continues as the most important relationship in your life.
Remember the good times. Success can be found in memories of your honeymoon, trips with your spouse to places you had never seen or in shared experiences like buying your first home together. There was a time when you and your spouse worked, planned, laughed and enjoyed life together. Little is to be gained from dwelling on the arguments or the events that led to divorce. Moving on means letting go of those negative feelings.
Divorce may be both a courageous and, ultimately, a positive act. Allowing your children to witness a couple living in a loveless marriage in which spouses come and go every day and show little or no affection does not provide a successful role model for your kids. Endangering your own or your children's emotional or physical well-being by trying to hang on to a troubled marriage can hardly be deemed a success. Success is achieved by demonstrating the strength to move on and to strive toward self-sufficiency. Separation may allow both parents to refocus on their children, thus becoming better parents. In some cases, divorce also allows former spouses to be better friends.
You successfully grew as a person as a result of good times and bad. Remember how you felt before and at the time of marriage. You developed the capacity to love someone deeply, to make a commitment and to share yourself with another. When things did not go well at times, you may have learned the value of forgiveness, the necessity of compromise and the ability to persevere through conflict.
If you married young, you might not have had the opportunity to determine your own goals truly. Once married, your focus may have been on your life as a couple. As the marriage deteriorated, it is likely you began to revisit your ambitions and unfulfilled dreams. Rediscovering yourself and learning from experience are successes. Experience provides wisdom that may prevent you from repeating the same mistakes. Lessons learned from a first marriage are often the reasons why second marriages are frequently far more positive and longer lasting.
The breakup of a marriage tends to refocus a person's priorities, often out of necessity. Perhaps you discovered you wanted to go back to school, to develop new skills or to share your talent and passion toward a cause in which you have come to believe. Life is a road of self-discovery, and even a marriage that does not last continues your journey along the road to a better understanding of yourself.
Success can be found in strengthened relationships with friends and family. Divorce is often painful and triggers a range of emotions. Navigating the process often requires reliance on those closest to you to provide emotional support or to be there as a sounding board when you need to vent. Divorce often reveals your true friends, those who will stick with you through thick and thin.
Achieving freedom is success. The end of marriage provides a new found independence to shape your own life and to relocate for work or just for a change of scene. Particularly if you don't have children, you can now come and go as you please without limiting yourself due to the needs of a spouse. While that may sound selfish, taking advantage of your new freedom can provide a constructive outlet to recover and let go of what had become an unhappy relationship.
Each marriage has its share of success stories. In fact, the term "failed marriage," an expression which has been casually applied to divorces for generations, is misleading and inappropriate. Brakes on a car fail. People fail a driving test. A friend may fail to remember someone's birthday. Marriages do not fail. Marriages, like life, simply end. Both have their ups and down and their share of challenges, accomplishments, happiness and sadness.
When someone's life ends, people frequently join together to share fond memories and stories of happy times and to reflect on what was gained and learned from the relationship with that person. One may never get over the death of a loved one, but you do learn to get through it, to move on. The end of life does not indicate failure, nor should the end of a marriage.
Couples do not go into marriage thinking they will eventually divorce, but sometimes the vows to love, honor and cherish each other until death do you part must give way to a reality that divorce is necessary. Rather than seeing divorce as a failure, this significant life change may ultimately lead to future successes of becoming a better parent, finding happier relationships and becoming the person you hope to be. If you have questions about divorce, call the Law Offices of Peter Van Aulen at (201) 845-7400 for in office consultation.