Important Facts that Barbie and Ken Need to Know if They are Considering a Prenuptial Agreement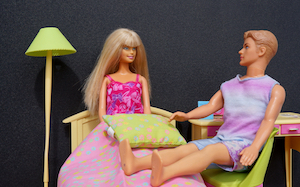 There are few famous women who immediately are known by their first names alone. Since she hit the scene some years ago, a leader – if not the leader – of this pack is none other than Barbie. Now, (some would say finally) the subject of a film about her life, Barbie really has come into her own.
Of course, we cannot forget Ken, Barbie's longtime love. There are rumblings in the ether that Barbie may have finally made the decision to marry Ken.
Unimaginably successful, Barbie is in the midst of considering a prenuptial agreement. With this in mind, there are some vital points that Barbie and Ken must keep in mind when it comes to preparing, reviewing, and then entering into a prenuptial agreement. The primary factors that need to be considered by the happy couple include:
Full disclosure of assets
Timing of signing
Need for individual lawyers
Prenuptial agreement must be reasonable
Understand content of prenuptial agreement
Full Disclosure of Assets
A key requirement of an effective, binding prenuptial agreement, including a New Jersey prenuptial agreement, is the full disclosure of assets by both parties at the time the document is signed. For example, Barbie needs to disclose her multiple residences:
Dreamhouse
Malibu Beach House
Getaway House
Cottage
2-Story House
3-Story Townhouse
Barbie also needs to disclose the vehicles in her large automobile collection:
Classic Corvette Convertible
Ferrari 328 GTS
Porsche 911 Turbo
Volkswagen New Beetle
Austin Healey
Jeep Wrangler
Mercedes-Benz SL500
And Barbie must not forget to disclose her Dreamplane.
Ken must similarly disclose his assets as well. If Barbie or Ken fail to make a full disclosure, the possibility to have a prenuptial agreement voided or set aside at a later date exists.
Timing of Signing
A New Jersey prenuptial agreement should be signed at least 30 days from the wedding. The closer to the wedding date the prenuptial agreement is signed the greater chance a party is going to claim they were under duress when they signed the agreement. Therefore, Barbie and Ken need to start the process of discussing the terms of the prenup and having it written months before the wedding.
Need for Individual Lawyers
There are a number of important reasons why both Barbie and Ken need to retain individual lawyers when it comes to the preparation, review, and execution of a prenuptial agreement. Among these key reasons why individual attorneys are necessary in regard to a New Jersey prenuptial agreement include:
Avoiding conflicts of interest: When both parties use the same lawyer, conflicts of interest may arise. Each party's lawyer should represent their client's best interests, and not try to find a middle ground that may not be the best for either party.
Ensuring full disclosure: Each party's lawyer can help ensure that both parties fully disclose all their assets and debts. This is important, as a prenuptial agreement that is not based on full and honest disclosure may not be enforceable.
Protecting individual rights: A prenuptial agreement can have significant long-term consequences for both parties. Each party's lawyer can help ensure that the agreement is fair and protects their client's individual rights. This can include provisions for property division, spousal support, and other important issues.
Each party having their own attorney helps ensure the enforceability of the agreement. If any party is not represented by an attorney, it should state in wring that said party is knowingly and voluntarily waiving their right to have an attorney. However, if Barbie and Ken want their agreement to have the best chance to be enforceable, they should each have their own individual counsel.
Prenuptial Agreement Must be Reasonable
A prenuptial agreement is considered reasonable when it is fair and just to both parties. This means that the terms of the agreement should not be one-sided or unbalanced. A prenup, including a New Jersey prenuptial agreement, should take into account the financial situation and needs of both individuals.
Understand Content of a Prenuptial Agreement
Finally, both Barbie and Ken need to fully understand the content of a prenuptial agreement they desire to create. Understanding the contents of a prenuptial agreement means comprehending the legal terms and provisions of the document, as well as the implications of signing it. It involves being aware of the rights and responsibilities of each party, including property division, debt allocation, and spousal support in the event of a divorce. It also requires a clear understanding of the conditions under which the agreement is enforceable and the potential consequences of violating its terms.
In conclusion, despite the never-ending glamor and excitement of Barbie's life, there are some things that she shares with all of us. Among them is the need to cover the bases when it comes to entering into a prenuptial agreement. If you are planning to get married and want a prenuptial agreement, call the Law Offices of Peter Van Aulen at (201) 845-7400 for a free consultation.