Legal Separation vs. Divorce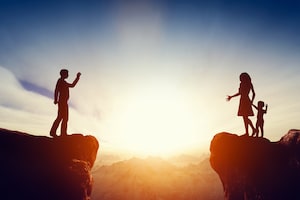 For married couples experiencing difficulties, legal separation may offer a beneficial option to a divorce, which terminates the marriage. Just as with divorce, each state has its own laws regarding the process to obtain a legal separation. Unlike a trial separation in which a couple informally decides to live apart for a period of time, the legal separation procedure results in a decree or a binding contract, which can be enforced in court.
Financial issues often dictate choosing separation over divorce. Since the parties remain married, both may remain covered by one spouse's employer-provided health insurance policy, coverage which would be discontinued for one spouse following a divorce. A couple intending to separate should review the insurance policy to ensure coverage will still be provided during separation.
The separated couple may choose to file federal income tax forms as "married" resulting in larger tax exemptions and payment of less tax. Discussion with an accountant is advised. Legal separation may also allow a spouse obtain higher Social Security benefits. When a marriage has lasted 10 years, a divorced spouse may begin obtaining benefits at age 62 based on her own work history or she may choose to receive 50 percent of the amount her former spouse is entitled to collect. This can often be a substantial difference. Couples married for seven or eight years may choose separation until the 10-year threshold is met and then divorce.
Once parties have legally separated, property acquired by either spouse is typically considered that person's separate property. Similarly, any debt acquired by either is that person's personal and separate debt. Separated spouses retain the right to inherit property from each other under most state laws unlike divorce which terminates one spouse's automatic right to inherit property from the other. Similarly, since the parties are still married, each is considered next of kin and can still make financial or medical decisions for the other.
Legal separation may be more palatable for persons who oppose divorce on religious grounds or believe that divorce carries some type of social stigma. A couple may also feel that separation rather than divorce will be less psychologically troublesome for their children.
Separation holds out the possibility of reconciling at some point while divorce terminates the marriage and requires remarriage if the parties reconcile after separating. Separations can be reversed, and time apart may allow spouses to resolve financial and personal issues that led to the split.
The benefits that result from remaining married also create some potential obstacles. No matter how distant the parties live from each other or the opposite directions their lives may take, they cannot legally marry someone else. Every state forbids polygamy. For either spouse to marry another, the separation must be converted to a divorce.
Even if the parties have been separated for some time, a child born to a married woman is legally the child of her spouse. A paternity action may be required to prove someone other than the spouse is legally obligated to financially support the child.
Procedures to Obtain a Legal Separation
In some states, as Washington, the process to obtain a legal separation is virtually identical to getting a divorce. The time required and the cost to obtain the separation may also be similar. The same forms are used and final orders appear comparable.
A petition is filed along with proposals for property and debt distribution, spousal maintenance, child support and residential/visitations plans for the children. The parties may reach agreement or go to trial. Once finalized, the court issues a Decree of Dissolution rather than a Decree of Divorce. After six months have passed, either party can request the court to convert the separation to a divorce. The other party generally cannot object. The terms in the separation decree remain the same.
Other states, as New Jersey does not have a formal court process for a legal separation, but allows the parties to enter into a written legal separation contract, sometimes called a settlement agreement. Court approval is not required. The agreement outlines conditions of the separation and may include terms relating to use of property, responsibility for debts, child support and custody.
The agreement, when signed by both parties and notarized, becomes a legally binding contract which lasts until either the parties change it by mutual agreement or a court grants a divorce. Should one party fail to live up to the agreement, the other spouse can seek enforcement in court just as anyone might seek to enforce provisions of a business contract. The party requesting enforcement may be granted an award of legal fees for the necessity to obtain court intervention. If the parties later want to divorce, they may simply ask the court to incorporate the terms of the agreement into a divorce decree.
Legal separations require some ongoing degree of cooperation. Since the couple remains married and both parties may benefit from that legal status, separation works best if spouses are on speaking terms. Either person may require information from the other at times such as tax or insurance information. If spouses are not communicating well, divorce may be the better option. Spouses should share the same goals for separating and agree on what they hope to achieve by taking this step. Spouses should also agree on what action will follow if either fails to live up to provisions in the separation agreement. Discussion and efforts to resolve conflicts privately should take priority over court action.
Since procedures vary by state, it would be wise to consult an attorney when considering separation or divorce. Important rights are impacted by either process. Legal separation will not be the best resolution for marriages in which the marital bond is irretrievably broken. However, for some couples, legal separation may provide a valuable opportunity to experience life living apart while protecting important rights during this period. Time apart may help parties realize whether they truly want to terminate their marriage or whether it makes more sense to cooperatively strive to save their relationship. If you have any questions concerning separation vs divorce, phone the Law Offices Of Peter Van Aulen at 201-845-7400 for a consultation.